Last year after waiting all winter, having gotten my licence in november, I purchased my first motorcycle. A 1997 Harley-davidson sportster which i rode as often as i could, I dont have my own car right now. The feeling of riding that bike was amazing, you all know what i mean. To the point, i began watching videos of motorcycles of all kinds, and then i saw the Documentary on Amazon: Hitting The Apex. I watched moto GP races and Guy Martin on the isle of Man TT.. I may not ever be a Valentino Rossi or Guy Martin, but i thought i need a motorcycle that will let me put a knee on the ground. I need the full leathers and a road not shared by cars... This past spring, my friend who has a 2015 RC390 convinced me to get one, it just seems to be the perfect starting motorcycle for learning to ride on a road track. I rode my brand new "left over" 2017 Rc390 for 900 miles around town.. do I really want to change a lot about the bike, spend more money, should i turn it to a full track motorcycle.. it took some time, but the answer is YES. Thats what i BOUGHT IT FOR!
THIS THREAD, IS THE BUILDING AND TRACKING OF THE "RHODY ROOSTER RC390"


First week: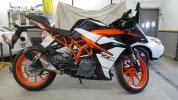 The first steps were removing the license plate stalk....the passenger seat... the taillight, the airbox, the entire exhaust system. Accepting that this rc390 which i just bought and is a brand new motorcycle, wont be seeing road use again. what do I need?
Tyga Rearsets check
Stainless steel header, check
lower belly pan, check
Solo seat, check
front axle slider and side crash bar, done..
View attachment 4926
But what about those beautiful fairngs with barely a scratch on them? Well i dont want to destroy them...and theyre heavy. Personally tyga carbon fairings would be great, but theyre expensive..
Cheaper fiberglass fairigns from hotbodies racing and a used fuel tank cover. OH yeah.

Again this is my first track motorcycle...but if your going to try, go all the way, otherwise. dont even start. The windshield arrangement was not good enough, the $200 braketry for fairings and dash mount seem absurd for me. Have i EVER worked with fiberglass before? NO. am I going to staret now? YES.
CUSTOM WORK BEGINS: (Thanks for the inspiration John Britten, R.I.P.)
Home Depot should be my sponsor...wire frame hot glued.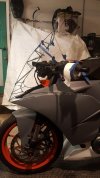 Expanding foam to give it a surface now that it has an outline, then filler to help final shape and smooth over. (I did not get it super smooth. Its my first time. I tried clay first but for different reasons it didnt work for me.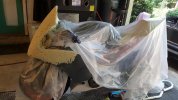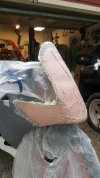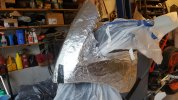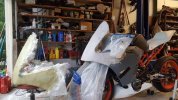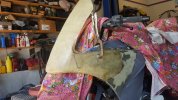 As you can see in the last picture, after pulling the fiberglass away from the structure i created of foam and rod framework, I broke it down and joined the side fairings and front fairing together to make one piece. the dash/ speedo gauge will be mounted with a custom bracket, the centerline of the fairing is modeled after the dash curve so it will fit up perfectly, giving the windshielf more strength to hold in place. Hoping in the future that the space left for the handlebars will accomodate a set of lower clip-ons...we'll see. A squick skectch gave me a color scheme for paint that im 90% sure i will be using. Will share that when its ready for paint. UNFORTUNATELY...i want to do more. SO, looking at the moto 3/ GP bikes and reading on some simple aerodynamics ive decided to enclose the tail section, hiding that nice trellis frame but giving the form a smooth surface and custom bodywork... however one thing has bothered me overtime. The tail sections flares that r used to cover the brackets off the frame which originally were used for the grab handles and passenger seat.. after some consideration i said F**k it, its my motorcycle now and began cutting them off.
The new tail section will be one slip on piece, and will include a shortened tank cover (I have a new fuel tank on the way, with which i will experiment cutting in half and shortening to lessen weight and lower the camel hump of the OEM tank) the tail will be slimmer than ones available now as the brackets will be removed and will also be vented with a single hole as im going to be working with a shop to produce a custom single exhaust dumping out just beneath the tail...
The oem fender and chainguard are also unacceptable so im making a larger and more enclosed one, keeping the bike clean of the rubber i will hopefully send flying..
Tail section with foam fill begun, oem fender/chain guard in process of fiberglass shape prep.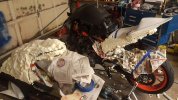 Thats as far as ive gotten for now, Really hoping to make this build happen in time for at least one track day this season. Currently not working so if i dont slack off, it should happen...
Last edited: