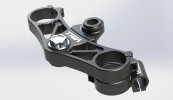 Coming soon. RC390 top triple clamp and handle bars. All specifically designed for the RC390.
The whole assembly is lighter than the standard setup, and with the bars being seperate from the top clamp, there's no worry about breaking the top clamp during a crash, which is going to happen on the standard parts.
The bars are angled at 6 degree (stock = 0 degree), and lower. One issue I had during track testing was the bars being too high and flat. This will solve that little problem.
Due to the design, we'll also provide a top bolt which is lighter, and slightly longer than stock.
The Keyholder will hold the switch in the stock position, so that the steering lock can still be used. However, this will be removable for racing, so losing weight further and cleaning up the view.
Feel free to let me know what you think, and if you have ideas for other parts don't be shy....let me know.
Cheers,
Matt.