This is just a public service announcement for folks who are running the Tyga rearsets... CHECK YOUR REAR BRAKE LEVER STOP ADJUSTER.
I've just gotten my 3rd report from someone who's had the adjuster fall off, which then allows the brake lever to swing WAY too far up... So, look at the bottom of your rear brake lever. If you see the adjuster. Then my recommendation is, take it out, apply (blue) Loctite, and put it back in place.
If you see a threaded hole, and nothing else... like this: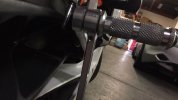 well... you've lost your adjuster.
To fix the problem, you just need to make a small tab of metal. It doesn't need to be much, as it's just holding back the strength of the return spring... so something on the order of 5mm wide and 12 mm long. Drill a clearance hole on the end, and run a bolt up and into the bottom of the lever. Swing the length out sideways, such that it contacts the bottom of the footpeg hanger, apply Loctite, and presto... you're pedal won't go swinging WAY high anymore, and will be there when you go to use it.
This bolt MUST have Loctite on it, There has been a change on the side of Tyga, and has been in place for a few months now... which is that on initial assembly they are now putting the bolt in with Loctite, in case folks aren't adjusting the position of the brake lever when doing the initial installation. For anyone who's running the rearsets tho, that might not have put Loctite on the adjuster when they installed their rearsets, this is something folks should check.
If your adjuster has fallen out, and your pedal is swinging high / flopping about from the return spring, and don't want to try making a replacement yourself, let me know and I can make something up for you in the machine shop here. Tyga doesn't offer this up as an individual replacement part however. Turns out, replacement brake levers don't even have that piece on them. I'll check into seeing if that can be changed also.