As we all know, the big automobiles and motorcycles brands manufactures a lot of their parts in Asia. In the last few years they have been signing new deals with asian brands to produce entire models there and then export to the hole world. Obviously, that only applies to small cc bikes (there are exceptions).
I have been looking for some information and here is what I found:
KTM... Factory in India + China
BMW... Factory in China
Honda... Factory in Indonesia
Suzuki... Factory in India
Kawasaki... Factory in Thailand
Yamaha... Factory in Malaysia
MV Augusta... Factory in China
Ducati... Factory in Thailand
Aprilia... Factory in Malaysia
The fact that KTM produces Dukes and RCs in India is well known and next year they will release the new 390 Adventure, also produced by Bajaj. Appart from that, KTM is producing some parts in China for the 790 Duke and 790 Adventure. I think that CFMoto is resposible for that.
All this research started because I read an article that the italian brand MV Augusta signed a new deal with the chinese brand Loncin to produce three models from 350 to 500cc and VOGE (Loncin premium branch) to produce 800cc bikes. Those models ETA would be around mid 2020 and probably announced late 2019 in EICMA. ¿Will they compete against the RC line?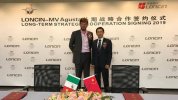 MV Agusta ties up with Chinese motorcycle maker Loncin - Overdrive
I leave you with a few Qs: ¿Would you preffer more expensive bikes produced in the original factories from Europe or Japan? ¿Does the brand heritage devalues because of this asian deals? ¿What do you expect from an european bike produced in asia?
Last edited: